Home Page
MSU Tennis Center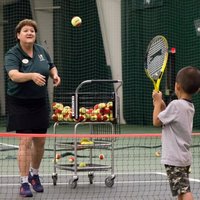 Join Us For Cardio Tennis!
Classes are Mondays, 6-7 p.m., Wednesdays, 7-8 p.m., and Sundays, 11:30 a.m.-12:30 p.m.
Cardio Lite offered Mondays, 8-9 p.m. and Tuesdays, noon-1 p.m.
Click here to view our adult fall classes, and here for available kids and junior classes!

Call 517-355-2209 to register.

The MSU Tennis Center is also accepting singles and doubles court reservations, and instructional classes and drill sessions have returned to one-hour time blocks. Please contact Coach Diane or Coach Pat or call 517-355-2209 for details or to register for a small group class. 
Ball machine rental is now available for $6 an hour in addition to your court time. We are also available for racket repair.