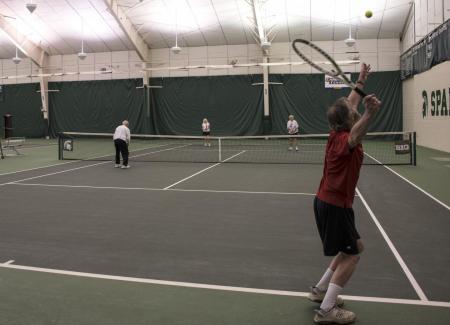 Looking to test your skills with singles match play? League matches are played weekly, within a one hour time period. 
Men's 3.5 and 4.0 Singles:
Dates TBA -
Singles match played weekly, indoors or out. Schedule/reserve an indoor court, to play your own day and time for your weekly match.
8 Game Pro Set - first person to win 8 games. (12 point set tie-breaker at 7-7)

For additional League information call Heather Mactaggart at
517-355-2209
League Prices (Based on Affiliation to MSU)
4 weeks
Public -  $78   
MSU Alumni -  $74
MSU Faculty/Staff - $70*        
MSU Retired Faculty/Staff - $62*
MSU Students - $56*
*MSU ID required.
You will be playing people of your like ability, and every once in a while, someone who is slightly above/below your ability.
To ensure everyone has fun, make sure you know what level of player you are. If you don't know, feel free to ask and we can point you in the right direction.
Payment in full is due by the first day of leagues. A 10 percent late fee will be added after the second week of non-payment. Must be 18 years or older.
Please call us at 517-355-2209 for sign-up details!
To preserve the quality of our court surface, everyone is required to wear proper court shoes.
Running shoes and black-soled shoes are not permitted on the courts. We appreciate your cooperation.