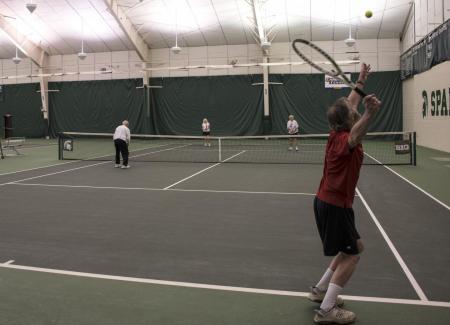 Looking for a competitive and fun way to continue your tennis game? The MSU Tennis Center is a host facility for four USTA travel teams. We host a women's 3.0 and 3.5 team as well as men's 3.0 and 4.0 teams.

USTA League is the country's largest recreational tennis league, helping more than 800,000 participants nationwide get on the court, have a good time, and step up their game. The league is organized as competitive team match play. Teams and matches are set up according to NTRP ratings, so your teammates and opponents will be at your skill level. The competition is exciting, the atmosphere is social, and since players compete on teams, you have a built-in cheering section.

Team practices are held weekly with our tennis professionals. Matches are played on weekends 1-2 times per month against other teams in Western Michigan. A USTA card is required to play in the league.
Please call us at 517-355-2209 and ask to talk to Diane or Pat for more details.