Visit our Spartan Spirit Shop and find the best in Michigan State tennis apparel. Sweatshirts, socks, water jugs, short-sleeved and long-sleeved T-shirts, tennis balls, and hats are just a few of the items you'll find in our Pro Shop or online store. Gift certificates are also available.  Call 517-355-2209 or stop by the MSU Tennis Center.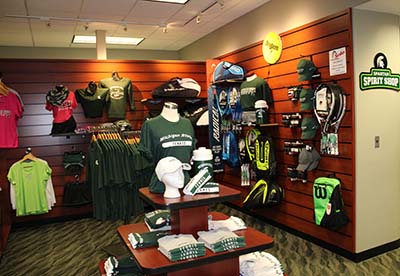 To receive exclusive offers from the Spartan Spirit Shops, sign up for their email list located midway down the webpage. Additionally, subscribe to the MSU Tennis Center newsletter to stay updated on the latest news and promotions.
STRINGS AND GRIPS
Our racquet re-stringing and re-gripping services come at different price points based on your preferred string and grip type. Expect a turnaround time of 48 - 72 hours for either service.