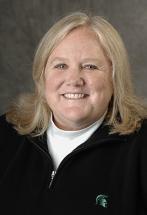 Heather is a true Spartan who has been associated with MSU since her student days when she graduated with a degree in advertising. Her passion for tennis brought her many accolades, including the MSU Big Ten Singles Championship title, and later, the role of MSU Head Women's Tennis Coach for 14 years.
Today, she manages the MSU Indoor Tennis Facility and continues to stay connected to coaching the sport through drill sessions, private lessons, and cardio classes. Heather and her team are passionate about enhancing customer experience by developing innovative programs that deliver outstanding Spartan experiences. In 2019, Heather played a key role in organizing the inaugural Capital City Classic, which hosted over 100 top tennis players from around the world. Heather is also a Board member of the Mid-Michigan Tennis Association (MMTA) and has served on various committees. Under her leadership, the MSU Tennis Center has hosted both the Big Ten championships and the USTA Midwest Senior Team championships.
When not working, Heather loves spending time with her loved ones and boating up North.