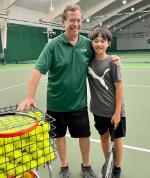 Patrick Page, a Michigan native and former No. 1 tennis player for the University of Detroit, brings a wealth of experience to our team. In the 1980s, he served as the director of tennis for the legendary Rod Laver in Hilton Head Island. Pat is passionate about sharing Rod Laver's timeless tips with our tennis guests and helping them maintain both physical and mental wellness.
In addition to his tennis career, Pat also has experience in the entertainment industry. He worked in Los Angeles, California, where he created, wrote, and produced prime-time television. Before returning to Michigan, he returned to Hilton Head, where he taught at a major tennis resort and was a professor of film and television at the Savannah College of Art & Design. In 2019, Pat received the Distinguished Alumni Award for excellence in Tennis and Television writing and production from Schoolcraft College.
Pat is a USPTA Elite teaching professional and has competed nationally. He was seeded as high as No. 5 at the men's 30s National Indoor Championships and won the 1994 USPTA National Team Championship. In 2022, Pat completed a Master of Science in Kinesiology from MSU. Currently, he volunteers his experience as a player to assist with the MSU Women's Varsity Tennis team. Pat offers private, semi-private, and small group lessons, and we are confident that our tennis guests will benefit greatly from his expertise.